Mansouriyeh – Sainte Therese
Paroisse Sainte Thérèse Beit-Mery Mansouriyeh, Lebanon
Related Listings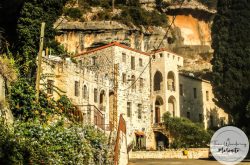 Monastery of Our Lady of Kaftoun, Kaftoun, Lebanon
دير السيّدة - كفتون
1910
Kaftoun
Koura
North
عود تأسيس الدّير الى القرن السادس، كُتِب عنه في منشورات تعود الى القرن التاسع موجودة في مكتبة أوكسفورد. تمَّ بناؤه على عِدَّة مراحل أمّا ترميمه الأخير فيعود الى العام 1910. الوجهة الخلفية للدير ملاصقة لشيرٍ صخريٍّ ضخم، وكنيسته في قلب الشير.
كان الدير بدايةً ديرًا مارونيًّا سكنه المطران (البطريرك لاحقًا) إرميا الدملصاوي. بعد حملات المماليك تنسّك فيه الرهبان الأرثوذكس. كانت أوجّ الحياة الرهبانيّة فيه عام ١٩٠٤. وفي بداية السبعينات أضحى مهجوراً ونُهبت كافة الأيقونات والمخطوطات. تجدّدت الحياة الرهبانيّة في الدّير سنة ١٩٧٧. عام ١٩٩٧ أُعيدت إليه أيقونة سيّدة كفتون العجائبيّة. تكمن أهميّة هذه الأيقونة أنّها مرسومةٌ على الوجهتين: الأولى تعود الى القرن الحادي عشر وتُمثِّل العذراء مريم والسيّد المسيح، والثانية تعود الى القرن الثالث عشر وتُمثِّل معموديّة السيّد المسيح ومدوَّنٌ عليها باللغات الثلاث: السريانيّة والعربيّة واليونانيّة، شهادةً عريقةً للطقس السريانيّ الملكيّ. يضُمّ الدير آثارًا تاريخيّةً قديمة كأجران منحوتة بالصخر وآبار ومطحنة ومعصرة قديمة تعود للقرن السادس.

The monastery was founded in the VIth century and many documents from the IXth century attesting its existence are still present in the Library of Oxford. The building was done over time up until 1910. The monastery is built inside a rocky cliff, with the main church inside the cave. At first the monastery was served by the Maronites and was the seat of Bishop (later patriarch) Jeremiah of Dmalsa. After the Mamluk's raids the ownership was taken by the Orthodox hermits. The monastic life saw its peak in 1904 yet it declined up to the seventies when the monastery was deserted and looted. The monastic life would be renewed in 1977. In 1997 the miraculous icon of Our Lady of Kaftoun was returned. The importance of that icon reside in its being a double sided icon: on the first side dating back to the XIth century is a depiction of the Theotokos, on the other one dating back to the XIIIth century is a Theophany with inscriptions in Arabic Greek and Syriac, a true witness to the Syriac Melkite Rite.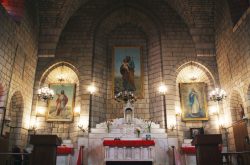 Saint Joseph Church, Jezzine, Lebanon
دير مار يوسف - جزين
1807
Jezzine
Jezzine
South

سنة ١٨٠٤ رسم المطران يوحنا الحلو الخوري حنا رزق (المطران يوسف) كاهنًا، وفوّض إليه بأمر البطريرك يوسف التيّان حقوق النيابة وزيارة أبرشية صور وصيدا، فسهر على خيرها ملاحظًا شؤونها متجوّلاً في أنحائها. بعد قرابة الثلاثة أعوام من تعيينه نائبًا عامًا على أبرشية صور وصيدا، وبعد أن عرف حاجتها الى العلم، باشر الأب حنا رزق بإنشاء دير ومدرسة مار يوسف في جزين. عام 1810 توقف الأب حنا عن البناء وعاد الى عين ورقة ليصبح رئيسًا للمدرسة في غسطا. عاد المطران يوسف بعد احداث ١٨٦٠ ليبني الدير والكنيسة. ميزة بناء هذه الكنيسة هي عدم وجود اي عمود في وسطها ، وطراز شبابيكها، ونوع حجارتها والدرج الداخلي في حائطها الشمالي. واستقدم لها اللوحات من روما والمذابح الرخاميّة من المرمر الأبيض. وهي آية في الجمال المعماري. اللوحات من عمل رسام ايطالي انريكو سكيفوني. وهي اليوم وقف الآل رزق.
In 1804 Archbishop Youhanna el Helo ordained Hanna Rizk (later bishop Youssef) a priest, and gave him the mission with the blessing of Patriarch Tayyan to oversee as a vicar general the archdiocese of Tyr and Sidon. After three years in his mission, and seeing the urge for a seminary in the diocese, he began the construction of St. Joseph's Seminary in his hometown Jezzin. In 1810 the construction was delayed due to the appointment of Mgr. Rizk as a Rector in the Maronite Grand Patriarcal Seminary in Ain Warqa. Yet after the war in 1860 he resumed his initial project in Jezzin.
The church is unique in its architecture: a high cieling with no columns. The white marble altars are beautifully ornate. And the paintings are the work of the Italian Enrico Scifoni. The establishment is now a private chapel owned by the Rizk family.